The distance between Penzion u Jelínka and Chata Liesel is approximatelly 500 metres, their elevation difference is about 100 metres.
Spacious terrace of Penzion located high up at the forest slope is the ideal stand. Enjoying perfect still, cup of coffee or tea tasting Belgian chocolatte you may watch sunrise and sunset you may even to get lost your mind at bluish forests hillsides of Rolava river valley up to its spring at Great Crane Lake.
Contrary, the Chata Liesel would fit those who need have "heart of all" as close as possible. At the sight of village center still in "your own" privacy you do not even need to start up your car. So, just take your bike, ski, snowboard or swimsuite and go... to enjoy yourselves as you wish.
Looking forward to meet you! Dirk & Ingrid
NEW
Accommodation in Prague
New! Private in Prague.
Allover new. Just for you!
We are proud to start year 2015 with completely redesigned and renewed rooms of our pension. Chalet Liesel has been reconstructed to meet your pleasure and comfort as well.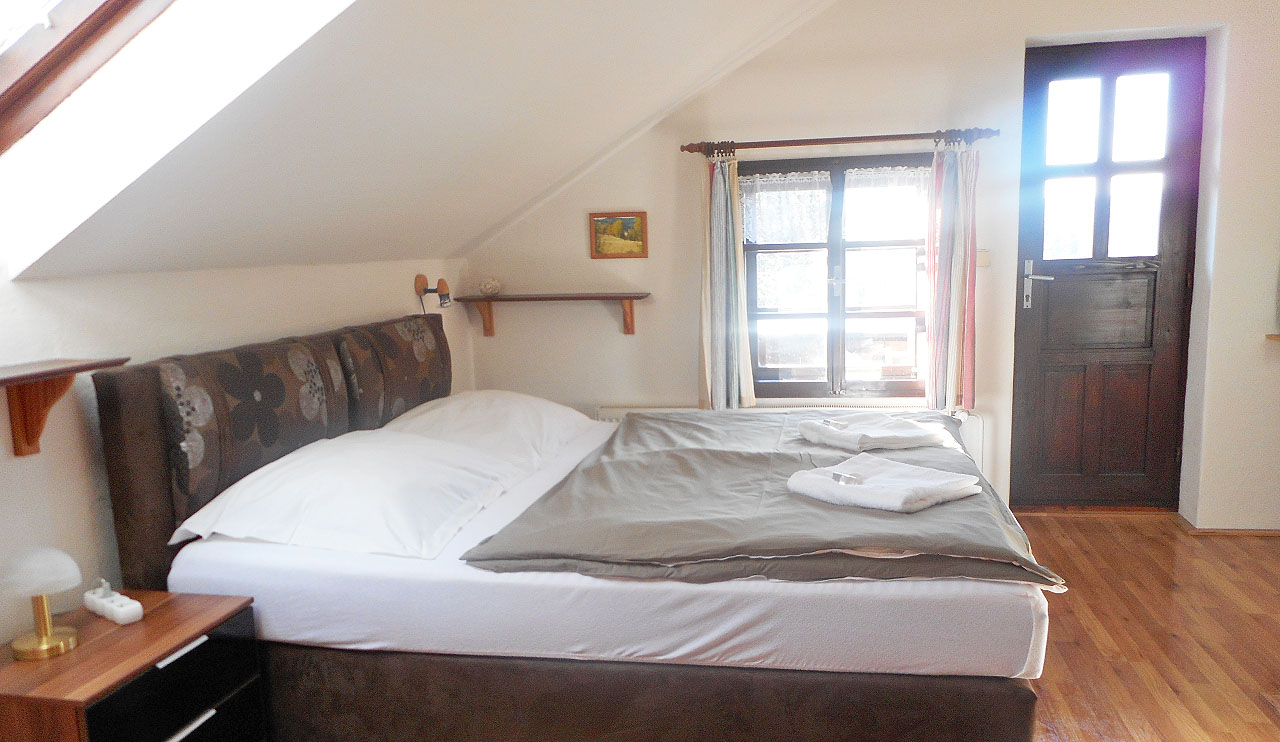 Met Vier in Bed
Here you will find us:
Orange pin Penzion u Jelínka | Blue pin Chata Liesel
How to get here?
You target destination address is Nové Hamry 382, 362 21 Česká republika. Even though many of you use navigation system at your car you may enjoy some tips:
| | | | |
| --- | --- | --- | --- |
| From Germany | From Prague | From Pilsen | from Northern Bohemia |
| Higway R6 had been finally opend at 2011 so we may highly recomend to use it as the best fast and the most secure road to reach us. Driving from of any European direction use highway A93, exit Marktredwitz. Than follow road B303 (E48) and use border crossing Schirnding / Pomezí nad Ohří. Than follow high way R6 up to Karlovy Vary and than turn at the exit Stará Role / Nejdek. | Using R1 Prague's circle turn at highway R6 direction Karlovy Vary. Follow the road up to Karlovy Vary and than turn at the exit Stará Role / Nejdek.   | Following road 20 drive through Karlovy Vary - Doubí over the river Ohre bridge up to roundabout. Than turn right following highway R6 and turn at the exit Stará Role / Nejdek. | Following road 13 pass Ostrov nad Ohri using four line road up to Karlovy Vary. turn at the exit Stará Role / Nejdek. |
Recommendation for our guests from Benelux: merge from A3 at Würzburg north onto A7 way to Schweinfurt than turn and take A70 way to Bamberg and further up to intersection with A9 northly from Bayreuth, take A9 north and on the first possible exit Bad Berneck turn right way to Markredwitz follow E48. Than use above mentioned instructions.
Further
Follow the road 220 up to Nejdek. Turn right at the square and follow the road up to Nové Hamry. At the Nové Hamry turn right direction Horní Blatná. Than after 500 m turn sharp right up at the first possible local road. After 200 m of rapid driving up you will reach your destination.
Railway station is aproximately 500 m from our Penzion.